For Sale by Owner & An Unique Opportunity to Buy Into One of Europe's Most Lucrative Investment Markets
(Portugal recently came in at no.3, on a list of the 20 best places to make money, here: http://www.channel4.com/4homes/ontv/place_in_the_sun/20_make_money-4.html )
For the Discerning Buyer: This 5-bedroom, 4-bathroom villa is set within the Luz Parque development, in the heart of the verdant, erstwhile Portuguese fishing village of Praia da Luz (Luz Beach), minutes from the sea & all amenities (More info on the village itself can be found at: http://www.algarve-luzbay.com ).
The house itself was constructed in 2003, to an exacting, modern remit. Architect-designed and bespoke-built for the current (and only) owners, it boasts unique features of a quality and design rarely found on the Algarve. Chief amongst these is the top floor open-plan sitting room, cleverly crafted to invite the outside in; glass panoramic doors disappear back into the wall cavity completely, so that the reception rooms flow into the exceptionally large 1st floor terrace, offering stunning views of the countryside, the cliffs of Luz, and the ocean beyond.
This is an extremely spacious living space, with a total area of 1240 m2, a covered area of 455 m2, & constructed on 2 floors. Unlike many Portuguese homes, there is also ample storage, with built in wardrobes in all bedrooms, as well as a cloakroom, laundry, and storeroom. Also unusually, you needn't pack those jumpers- Winter comfort is assured, as the villa has underfloor heating throughout and a wood-burning modern fireplace in the living area.
All bedrooms open out onto the large "zero-level" (overflow) pool and surrounding mature gardens, tended via a computerised irrigation system. Master Bedroom is ensuite, whilst one of the other bedrooms has an ensuite shower room/ wet room, with an outside door accessing the pool area.
There is remarkable attention to detail throughout, with hand-painted tile trim to bathrooms and kitchen, and yacht railings designed and manufactured specifically for the house.
You will not find another Algarvean villa in this price range so comprehensively and lovingly detailed.
Asking price in Euros is 795,000 or approx. £545,000.
For more information and/or pictures, please e-mail the owner at: wright@oninet.pt
Lounge with open glass slider to terrace


View of lounge from dining room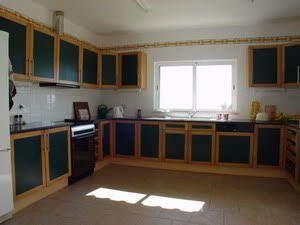 Kitchen (also has seperate sliding glass doors open to terrace)


Cloakroom showing bathroom finishes throughout


Portion of extra-large entertainment terrace


The view to the sea from terrace


Poolside & cliff view


An attempt to demonstrate the scale of the pool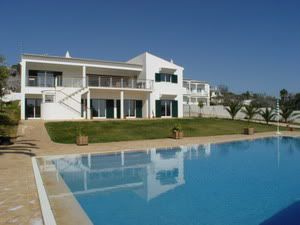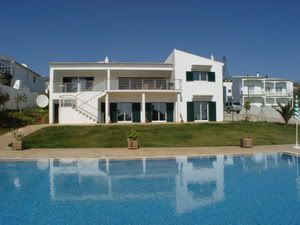 Front views